Location: Los Angeles, California Size: 59,400 SF Status: Entitlements Program: 7-story, Mixed-Use Residential and Retail Client: The Neman Group, Inc.
chevron_left
Urban Cascade
488 San Vicente was designed as an urban transition between high-density commercial and low scale residential zones. Integrating with the neighborhood, the design features large open terraces that gradually peel away from the property line. As a model for sensitive urban infill, the project simultaneously addresses the growing need for housing while respecting the character of its context.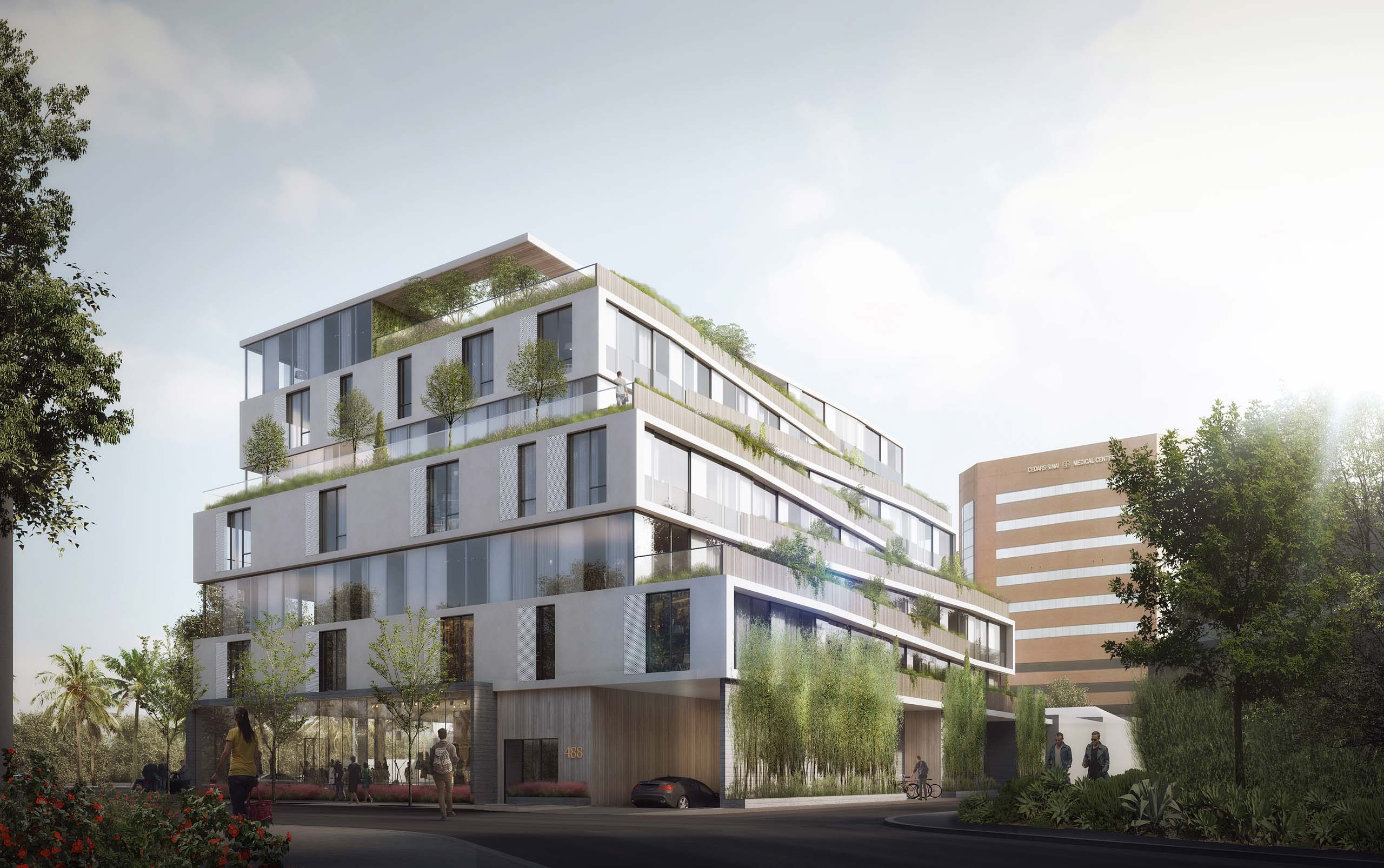 Folding Terraces
Taking the shape of an urban cascade moving between San Vicente and the neighborhood to the east, the project reinterprets the energy of the street. Residents and visitors can enjoy large private and commercial terraces that slope down to the back alley. These terraces are bounded by privacy screens and planters that trace the edge of each floor. Embracing the culture and climate of Los Angeles, the terraces activate the residential-facing façade to reflect the scale of the neighborhood.
The rhythm of the folding terraces reduces the overall massing of the building and provides large areas of open space for the project, including private outdoor space, common outdoor space, and landscaped areas. Combining new retail space with 54 residential units, parking and a fitness center, the design opens to the street through inviting storefront. Warm materials like bamboo are used on the ground floor to engage passerby and signify pedestrian access off San Vicente, while wood-clad balconies and transparent glazing create a dynamic façade above.
Building space for urban life, the design balances formal expression with responsible development. 488 San Vicente's creates both affordable housing and mixed-use amenity spaces enveloped in an continuous band. This band moves between floors to delineate the building envelope on each façade. Crafted with efficiency and attention to detail, the design includes privacy screens, fritted glass, and landscaping that provide additional privacy for residents and adjacent neighbors.
488 San Vicente represents a nuanced and subtle approach to the future of housing in Los Angeles. The design models massing and material strategies that are varied and complement the surrounding buildings and uses. Bringing rigor to this eclectic and unconventional building stock, the design embodies an elegant solution to mixed-use design.