Location: West Hollywood, California
chevron_left
Inside Out
Larrabee was designed as a housing model defined by precision and ingenuity. Located on a dual lot north of Sunset on a steep uphill slope, the project is bounded by three story residential apartment building to the north and the IAC office building to the south. Making the most of a tight site, the design creates amenity space through controlled moves that define a series of public and private spaces.
Highlighting an inverted courtyard approach that draws amenities to the exterior facades of the building, the forms takes the shape of a perforated mass. Here, the facades are broken into smaller volumes that alternate and recede to provide terraces and natural lighting in the units while adding visual interest along the façade. Inspired by the Bougainvilleas that grow throughout Los Angeles, the project's opening allow room for growth and plantings to embrace both the climate and nature.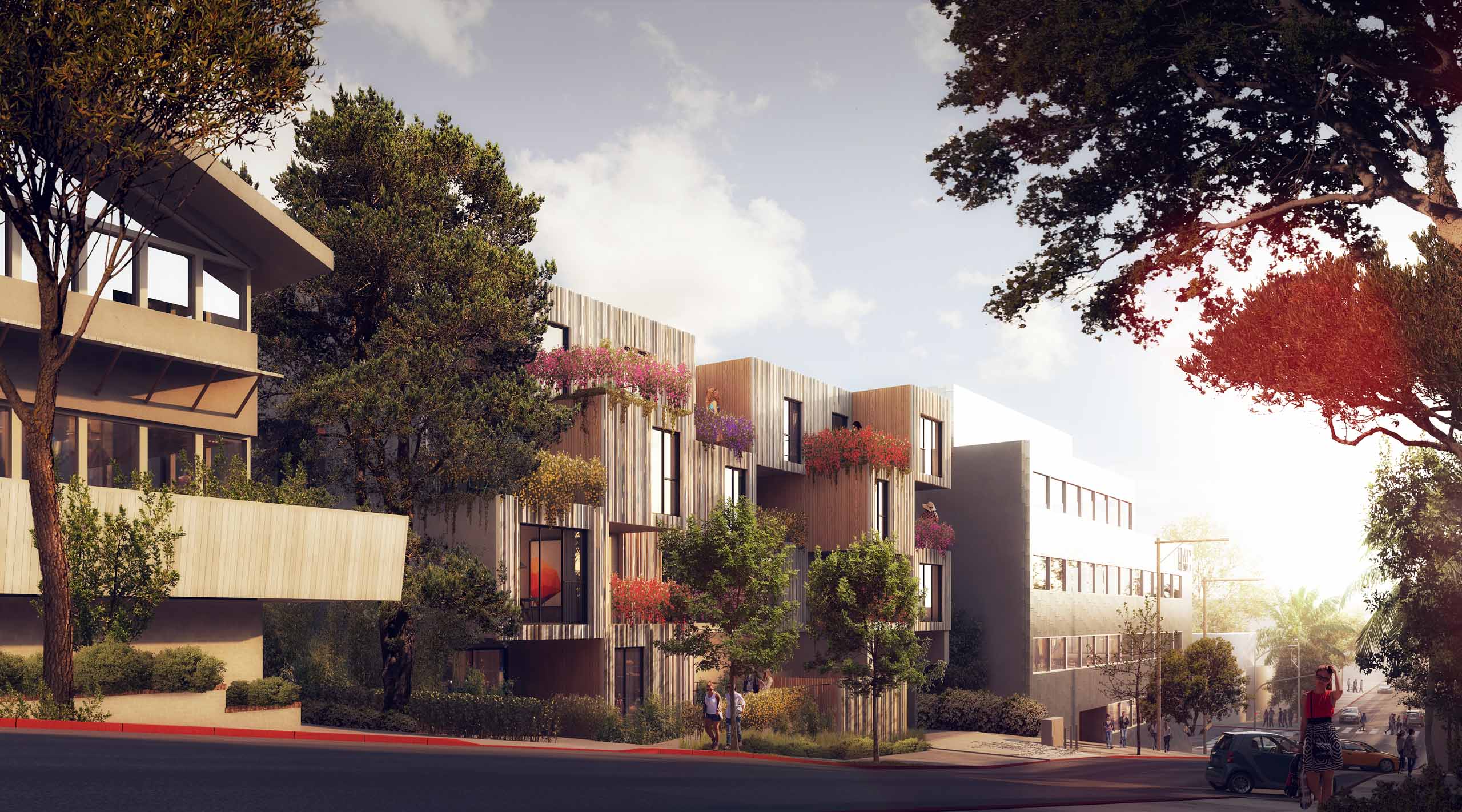 Urban Zen
At the heart of the Larrabee design is a desire to invert traditionally amenity courtyard space and bring this to the exterior. The approach increases the setback for units located in the center of the project. The resulting H shape in plan is further emphasized by generous balconies that alternate on each level to reduce the visual appearance of the building height and massing. Interwoven forms blur the boundaries between interior and exterior, placing access, views and activity close at hand. Taking advantage of the vertical nature of the development, the stacked building volume was made to utilize materials to activate the façade.
Designed with a total of twenty-two residential condominium units, the design includes both low and modern income units. The project's affordable units are provided with large private open outdoor patios with screened balconies and linear planter boxes to provide multicolored vines. The project features a range of shared programs, including a rooftop pool and community garden. In turn, the design also connects to a vegetated roof to help cool the building and provide more natural light into the horizontal circulation areas and building units. The design reacts to the strong east west orientation by providing privacy for the neighbors on the northern façade.