Martel Courtyard Residences
Location: West Hollywood, California Size: 30,670 sf / 11 Residential Units Status: Under Construction Program: Residential Client: Martel Heights, LLC
chevron_left
A New Take on an Old Classic
The Martel Residences build upon West Hollywood's emphasis on walkability and community-scaled development. The design creates a series of two and three-story townhouses centered around a semi-private courtyard. Rather than organize the complex as a single, monolithic apartment building with internalized corridors, the project features a shared courtyard opening onto the street along with dual pathways that create a sense of community for residents and neighbors alike.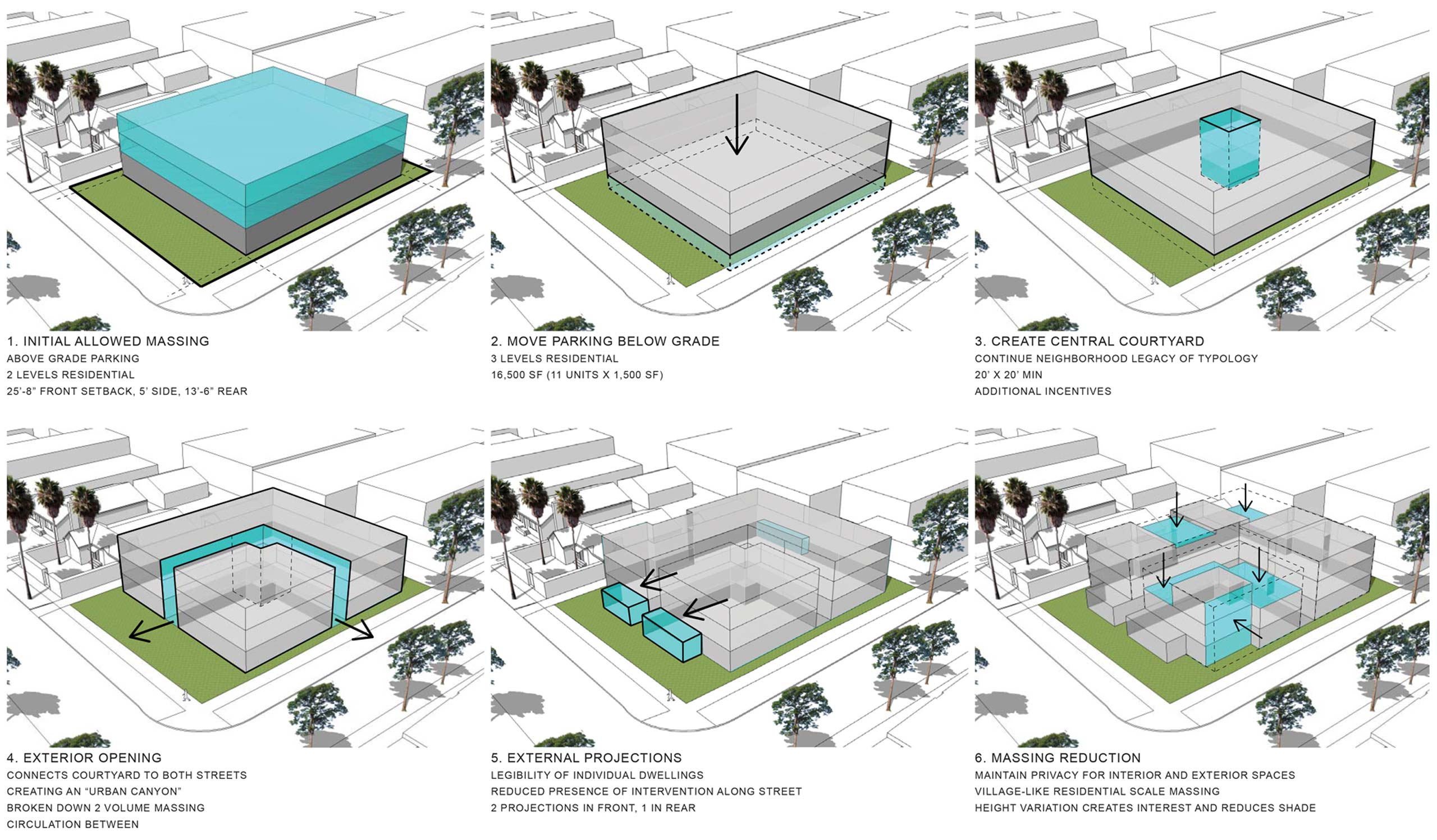 WeHo is a city committed to quality of life, inclusivity, sustainability and resiliency. The city's Strategic Plan addresses local and regional urban challenges with a focus on five core subject areas: Sustainability, Mobility, Accessibility, Resiliency, and Transparency. The Martel Residences build upon these core areas by rethinking the classic LA courtyard apartment typology and how it can connect residents to nature.
Located at the corner of Martel Avenue and Romaine Street, the project includes eleven residential units that take the shape of shifted volumes and corner glass boxes. Breaking down the mass of the project, the design result in a smaller-scale presence across the property and provides private rooftop gardens. Just two blocks south of Plummer Park, the units are also connected to exterior amenities such as roof decks and patios. These areas feature the work of landscape architect Yael Lir with local vegetation spread throughout outdoor spaces.
The apartments are designed with varied façades of stucco, glass, and wood so the individuality of each unit is maintained. Units are naturally cross-ventilated through the central courtyard, while internal staircases allow for stack-effect ventilation, with adjacent doors fitted with louvers and screens to further circulate air. At the same time, energy-efficient glazing, passive solar design, and clerestory windows help minimize heat gain.
Martel Courtyard Residences creates urban living that's accessible and sustainable. Averaging 1,500 square feet, the new apartments are linked to an underground garage with parking for residents. Above, the project creates access to light and a central micro-climate within the city context. Rethinking traditional West Hollywood housing, the project was made to emphasize community and individuality around spaces to live and connect.