"Courtyard" Apartments in West Hollywood Start to get their Skin
Featured on: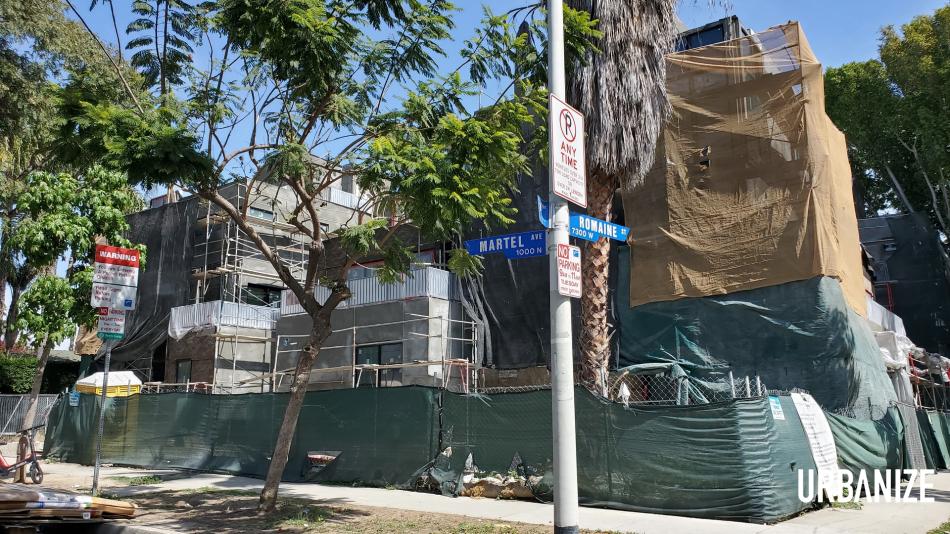 APRIL 21, 2022 WRITTEN BY STEVEN SHARP
Just south of Santa Monica Boulevard in West Hollywood, wood framing is complete for a slow-moving infill development, and exterior finishes are starting to appear.
The project at the northeast corner of Romaine Street and Martel Avenue, which is being developed by David Neman through the Downtown-based entity Martel Heights, LLC, consists of two- and three-story buildings which will feature 11 townhome-style apartments. The homes will average 1,585 square feet in size, each featuring exterior roof decks and patios.
OfficeUntitled is designing the project, which has been described as a "courtyard" style apartment complex with a shared central open space connecting to Romaine Street and Martel Avenue via small pathways.
In 2018, the firm indicated that the building's layout will allow for natural cross-ventilation of all residential units through the common space, with drought-tolerant landscaping and passive solar design intended to reduce energy and water consumption.
See More of What's going on...