Woodlark – A Crown Jewel in Portland's Thriving Hotel Scene
Featured on: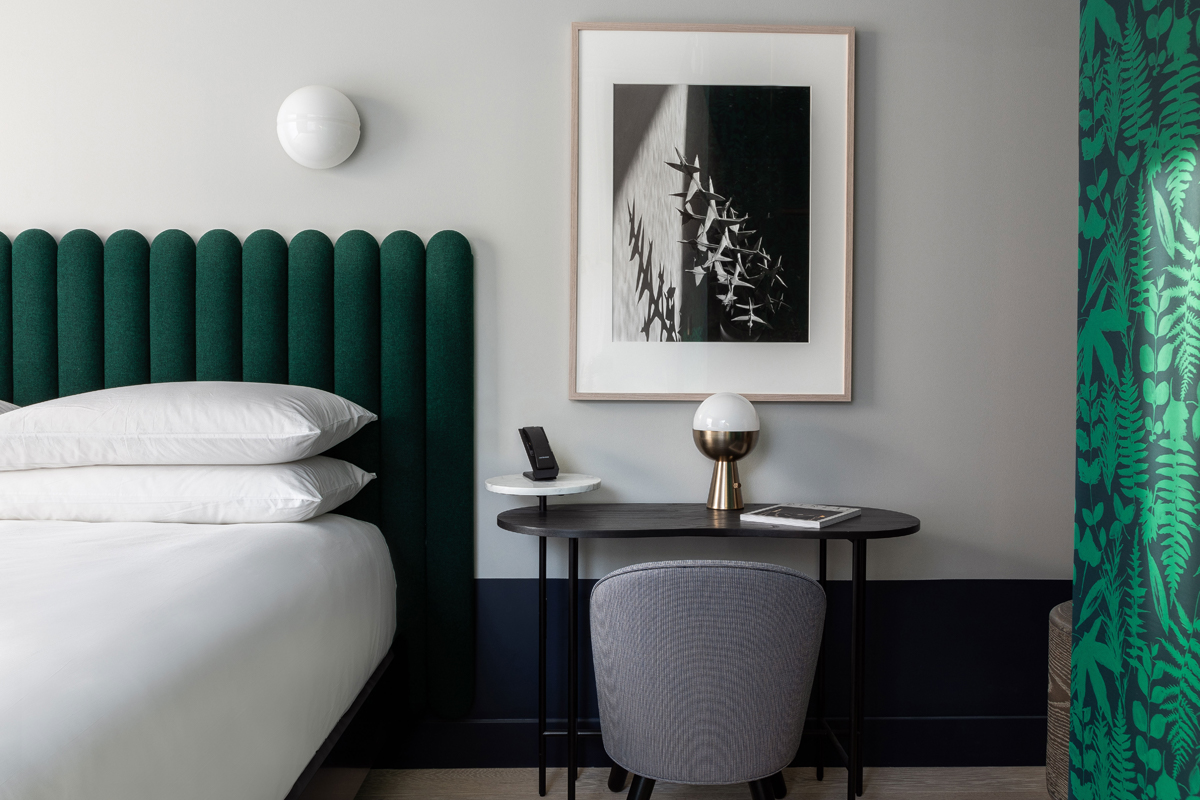 In 1920s Portland, OR, the corner of SW Park and Alder was known as "The House of Welcome." The French Renaissance-style building housed the Cornelius Hotel (named after Dr. Charles W. Cornelius) and an opulent Ladies Reception Hall, as well as Portland's first drug store and wholesale pharmacy. The hotel was listed on the National Register of Historic Places in 1986, yet it stood in vacant disrepair until recently. Now, the building is back to its former glory but better: Woodlark should be at the top of your travel bucket list.
The 150-room property is the crown jewel of Portland's thriving hotel scene. The hotel entrance features bold tile and statement lighting, not to mention a brass flower case from local favorite Colibri. Upstairs, the stylishly appointed rooms are a design lover's dream. Think high ceilings and shockingly large showers — rare for a historic downtown property, don't you think? Custom wallpaper, green tufted headboards, along with glass, marble, lacquer and brass details make for Instagram-worthy spaces that encourage you to stay awhile. When we visited earlier this month, we had the pleasure of staying in the Woodlark Suite. The sophisticated living area is separated from the bedroom by an iron-framed glass wall, while the bathroom features an oversized soaking tub and MiN bath amenities. Other room perks include a pillow menu, an honor bar stocked with local treats, and a Well + Fit kit stocked with exercise essentials delivered to your room.
That said, they've worked hard to make this a place locals can enjoy as well. The lobby features Good Coffee's first downtown location, serving handcrafted coffee and light breakfast options. Woodlark encourages patrons to order their coffee "for here" and enjoy the lobby, where many PDX creatives can be found taking business meetings or utilizing free wifi.
For dining, Portland-meets-Texas is the combo we never knew we needed until a meal at Bullard, the property's on-site restaurant. Helmed by Chef Doug Adams along with restaurateur and hospitality consultant Jennifer Quist, the menu features favorites like a flavorful Texas Red Tamale and Smoked Pork Belly.
Abigail Hall is the other can't-miss element at Woodlark, and dare we say it's some of Quist's finest work. The bar is formerly the Ladies Reception Hall we mentioned earlier, and the drinks are as delicious as the design is cute. Playful wallpaper, a jewel-toned color palette, and loads of comfy seating make for a great happy hour, or in our case, a nightcap after a busy day in Portland.
If you've been pondering a visit to Oregon, whether to explore the burgeoning art scene or taste the region's great wines, now's the time. See Woodlark's special offers here and enjoy your stay.
See More of What's going on...
See More of What's going on...