Village Hotel at Summit Powder Mountain
Location: Eden, Utah Status: Schematic Design Program: Hotel, Restaurant, Rooftop Bar, Pool, & Retail Client: Summit Mountain Holding Group, LLC.
chevron_left
Following the Flow on Powder Mountain
Inspired by the extraordinary geology and landscape of Utah's Canyonlands, the Village Hotel breaks down the scale of Powder Mountain across a rising hillside elevation. Just as the flow of water carves out canyons, so too does the village streetscape and pathways carve out the hotel and its form. In turn, the design celebrates Eden and Powder Mountain by reinterpreting its context.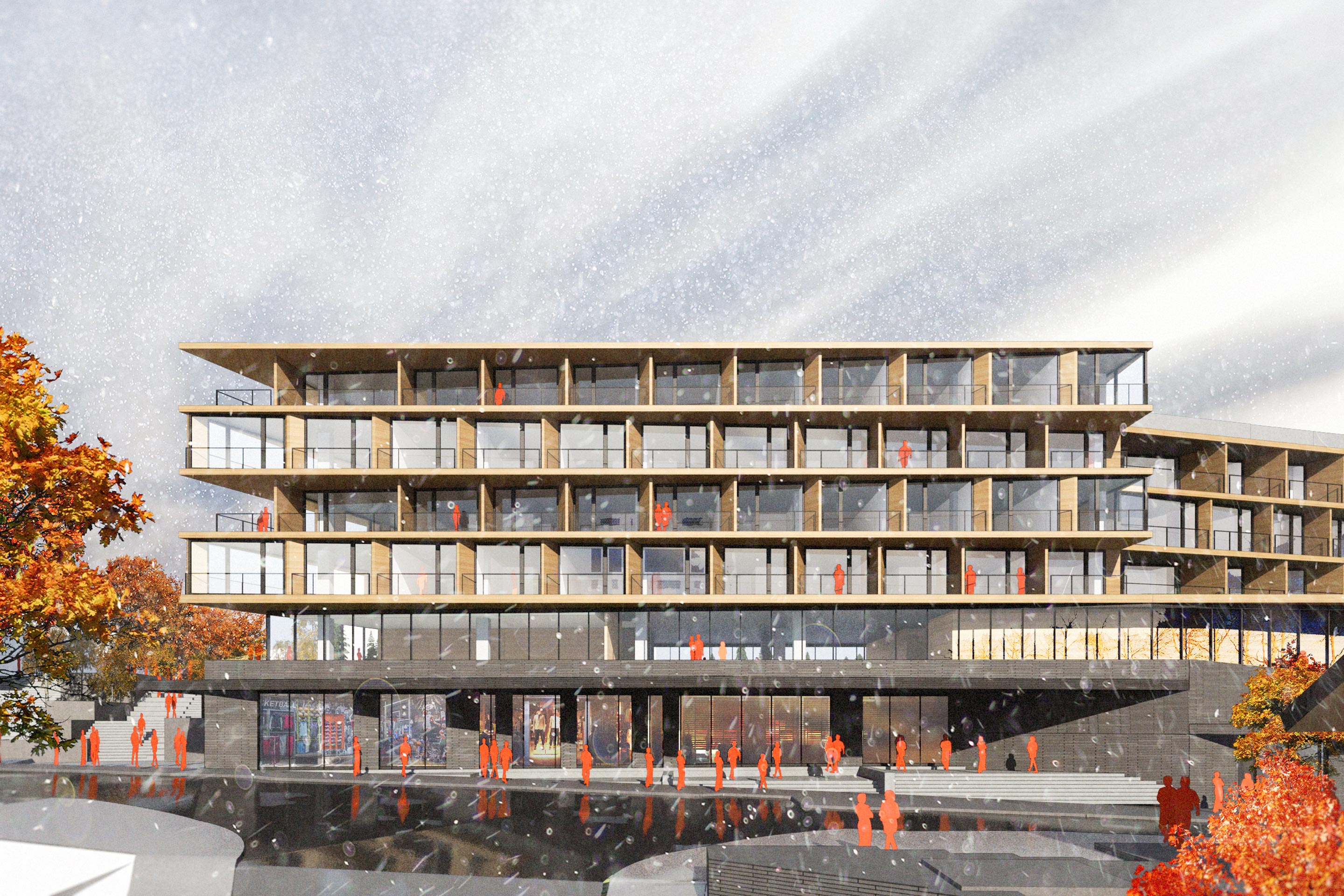 Embracing Summit's core ideals, the hotel explores urban strategies to rethink how Eden grows over time. The unprecedented ski mountain project anchors the new mountain resort village as both a point of arrival and orientation. Integrated with the site's larger sustainable development, the Village Hotel features a restaurant, rooftop bar and pool. Permeable connections at street and mountainside levels allow free access to visitors and the Eden community, while a continuous band of retail along the street creates a unified urban façade.
Drawing together a hardscaped gathering area for yearly celebrations with the streetscape below, the project is connected to the nearby ski-line so skiers can jump off a lift and ski through town. Bringing people together from diverse backgrounds around a remarkable natural setting, the hotel creates density while respecting the mountain's character. Breaking down the scale of the mountain, the Village Hotel reads as a series of stratified layers and balconies that flip orientation on alternating floors.
Inside, hotel rooms feature elegant details and materials that combine with warm colors and lighting. Each of the rooms frame views across Eden and towards Powder Mountain. The simple interiors place emphasis on the outdoors, providing comfort while encouraging visitors to explore. With a range of urban amenities only steps away, the hotel is seamlessly integrated with the village at large and the in-bound ski terrain.
The Village Hotel builds upon the best qualities of an urban center to become a place where residents and visitors can gather for educational, entertainment, and recreational activities. The hotel embodies Summit's values as an urban design that favors both density and sustainable growth.