Location: Culver City, California
chevron_left
An Open Framework for Community and Art
Providing new housing for the city, Bristol Parkway follows the shape of its site with six linear residential buildings. Reducing traffic and pollution, the neighborhood development emphasizes green transportation and connects to nearby services with a retail shopping mall to the west. Focusing on microclimate, Bristol Parkway takes cues from the prevailing winds to keep public spaces walkable and cool, creating a year-round space for community.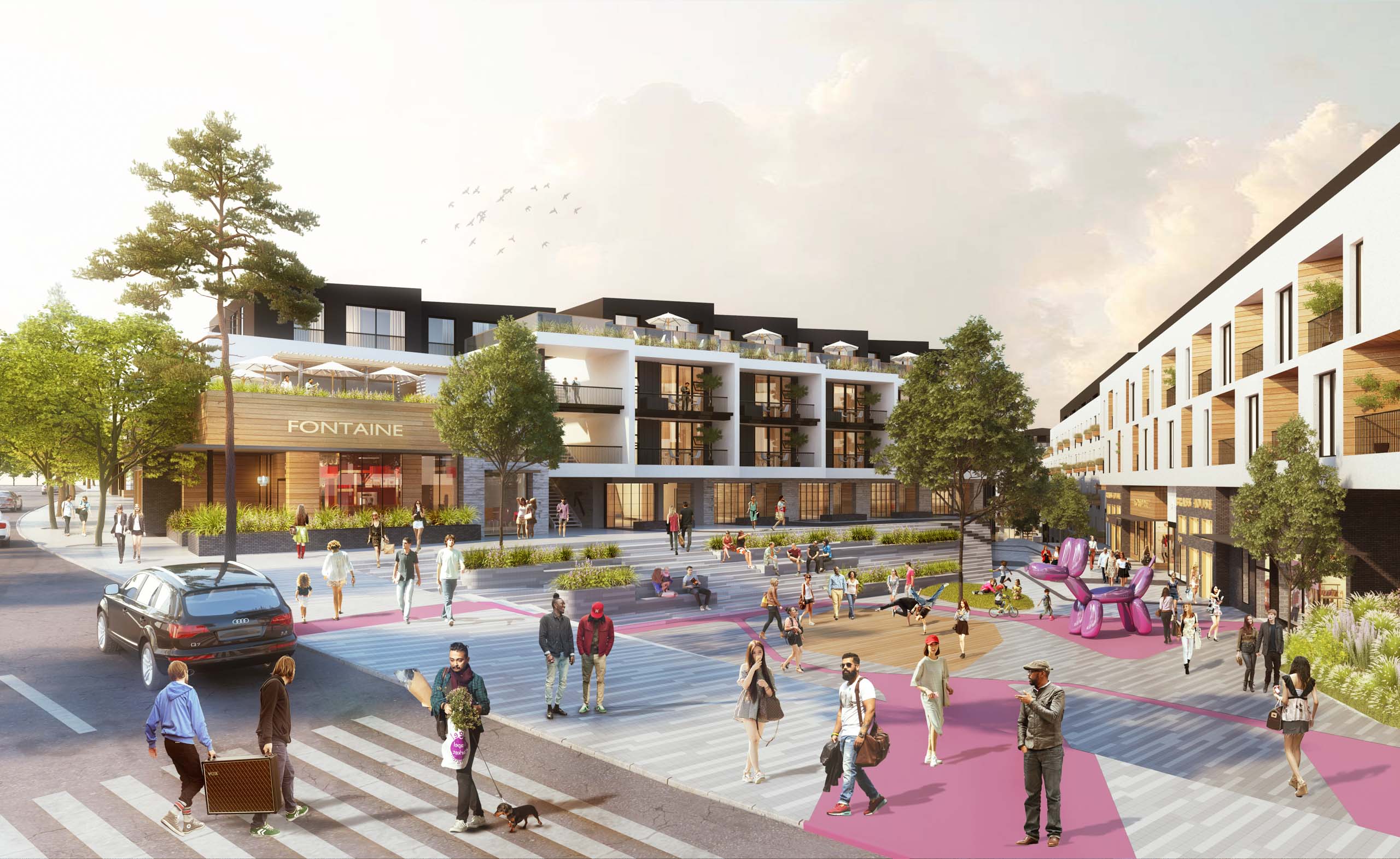 Sited in Fox Hills, Bristol Parkway is located on the southern tip of Culver City between Ladera Heights and Westchester. Taking advantage of its West LA location, the project connects to nearby offices, commercial spaces and retail. Following the city's draft vision for Fox Hills that aims to develop a pedestrian oriented development, the project creates a smaller scale neighborhood that extends future retail along Bristol Parkway and Green Valley circle. Designed as a porous urban block, the parkway introduces a network of internal streets and public spaces that create a connected neighborhood around recreation and mobility.
Bristol Parkway respects the scale of the surrounding context, with each building segment between 60 and 120 feet long. Smaller sections are further differentiated by a series of unique façade designs. Custom features include varied window arrangements and sizes, diverse balcony styles and types, exterior materials and textures, as well as angled facades with varied unit depths of five feet. Vertically, the uppermost units on the roof are set back to reduce the building mass and create private outdoor spaces for individual units.
At the heart of the neighborhood project are outdoor public spaces, amenity areas where landscape and seating combine to form communal gathering places. Here, neighbors, residents and visitors can come to celebrate, meet and relax. These outdoor public spaces are connected to internal walking streets, paseos and plazas. All units were designed as live-work spaces to double as homes for artists, artisans, creatives, and other residents who want to work from home. In turn, they can provide onsite services for the neighborhood and surrounding community.
Upper floors step back at the perimeter of the site to relate to its residential context and towards the central Grove plaza. Reducing the profile of the building for the public, the design along increases natural light to the development's central plazas. Activating the street frontage, the project facilitates pedestrian traffic and encourages connection as an open framework for community and art.