Location: West Hollywood, California Status: Under Construction Program: Creative Office over Ground Level Retail Client: Faring
chevron_left
Layering History
The French Market is an adaptive reuse project designed to celebrate history and provide space for growth. The project aims to address the preservation of significant community buildings, neighborhood character and the scale of redevelopments within transitional neighborhoods. Sited along the Eastern Santa Monica Corridor of West Hollywood, the French Market project embraces the neighborhood's history and its dense, compact urban form.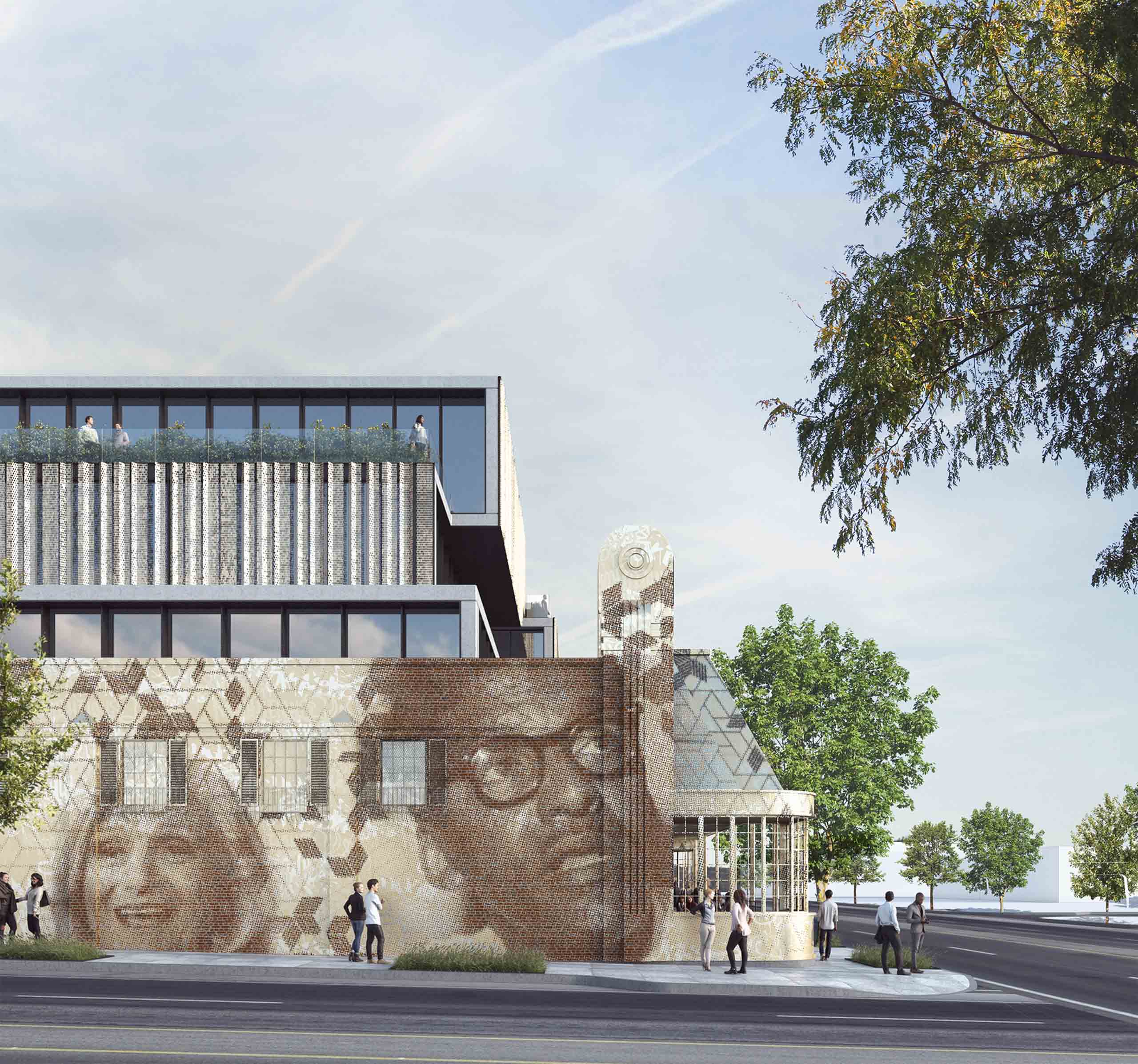 Civil Rights meets Adaptive Reuse
Building upon a context of mixed land use and walkable street grids, the French Market brings the close proximity of commercial and residential areas together to create new amenity spaces for West Hollywood. Historically, the market's function has evolved over time, from the Fitzsimmons Market in 1947 to becoming a swap meet in the 70's dubbed The Louisiana Purchase. The new adaptive reuse provides 17,000sf of retail, restaurant and bar uses fronting Santa Monica Boulevard. In turn, the project creates pedestrian paseos with an additional 55,000sf of creative office spaces and terraces overlooking views of the Hollywood Hills and the LA Basin.
Replacing the existing open surface parking lot, the French Market design brings pedestrian-oriented uses to the ground level. A paseo links the restaurant and coffee shops along Santa Monica to an office lobby and vehicular porte-cochere in the rear, further expanding the ground level experience. Acknowledging the significance of the existing structure, the new addition is broken into a series of smaller scale volumes to respect its context. Generous setbacks provide breathing room for existing structures, increasing daylight and view corridors for surrounding neighbors, and the project creates large outdoor terraces for office users to support the project's concept as a series of stacked communal volumes.
Inspired by the idea of bronzing to preserve and celebrate, the existing French Marketplace restaurant is reinterpreted with layered surfaces to capture significant community experiences and history. This bronzing provides space for historical narratives from local community perspectives as well as a series of large-scale murals featuring local and national icons of the LGBTQ community. As West Hollywood's first ground-up office development since the Pacific Design Center's Red Building, the project incorporates the original 1936 grocery store as its centerpiece.
The French Market returns street frontage to pedestrians around new amenities that are designed to serve the neighborhood. Placing emphasis on a walkable community, the project connects to the street and provides needed office space for local creatives. Respecting community scale and character, the design distills the past to create an active hub for the city while bringing history to life.