Location: Traveling Exhibit Size: 10' x 32' Status: Complete Program: Enclosure for Retail Trade Booth Client: Urbana Sacs
chevron_left
Handmade Wall of Washable Paper
Great design arises from the unexpected. DOVETAIL was part of a series of collaborations between the studio and Urbana Sacs. The collaborations explored the intersection between architecture, digital fabrication, sustainable materials and lifestyle products. Created using Urbana Sacs' lightweight, washable paper the collaboration expands the everyday nature and application of the signature paper into an architectural solution. The result relies on creatively considering the architectural principles of tension and compression, unitized assembly and shade and shadow while considering the economy and environmental impact of removing adhesives and mechanical fasteners to achieve the design intent.
Urbana Sacs washable paper is a sustainable lightweight textile made with a variety of virgin pulp fiber blends and recycled felt. Manufactured through cultivation, it is washable and maintains its composition so it can be used repeatedly. Its unique properties make it a malleable and flexible material. The material is used to create lightweight, durable bags designed and handcrafted in Los Angeles.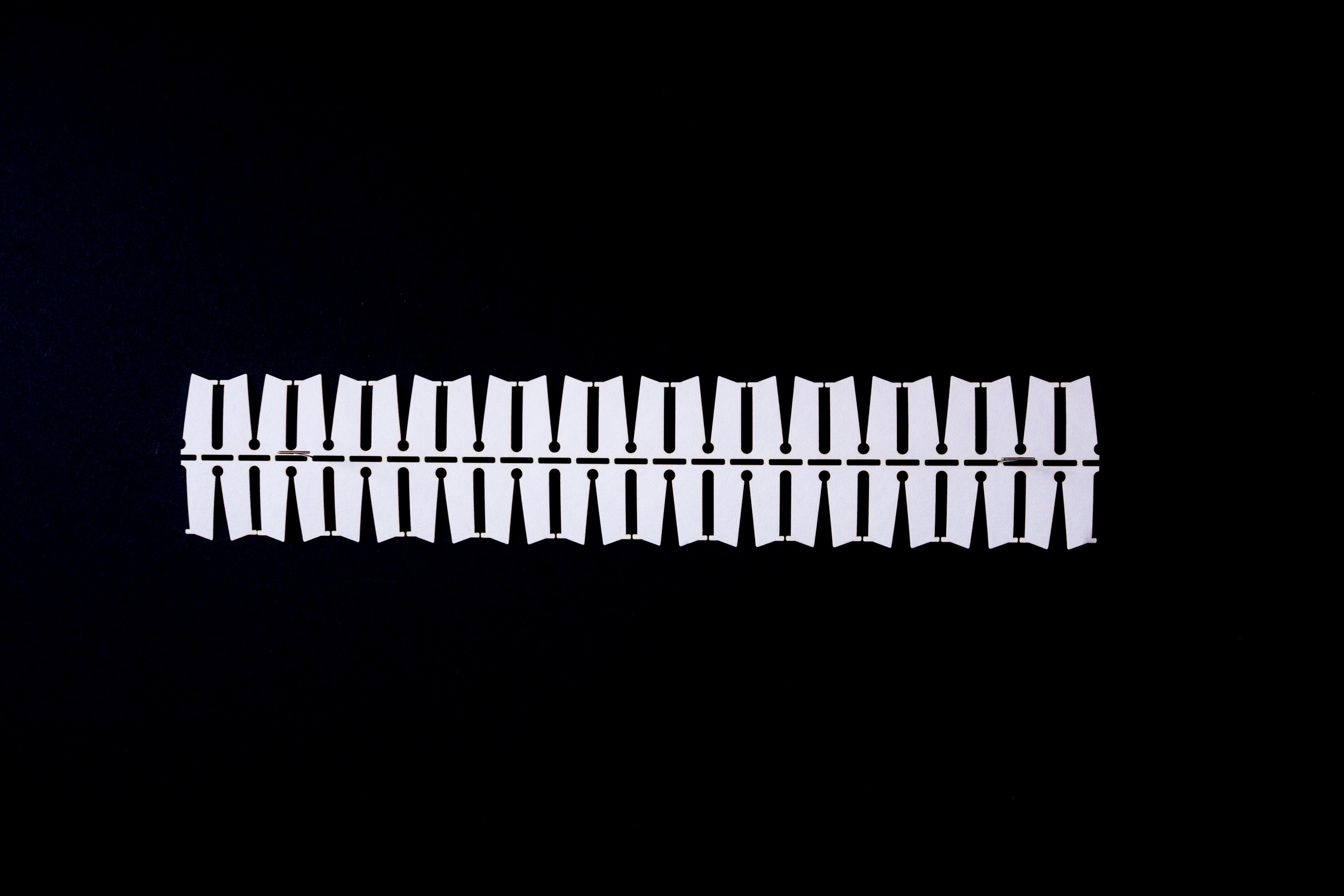 Paper Module as Unitized System
Dovetail is a paper module curtain system designed as the focal backdrop in Urbana Sacs traveling popup shop. A dovetail connection is commonly used in traditional woodworking joinery for its tensile strength such is also the case for this project.
Paper Modules Combine To Form A Larger System
The solution established a standard paper template that could be cut on a laser cutter and later hand assembled by a team of Urbana Sacs artisans to create a three-dimensional surface.
Use Gravity, Not Adhesives
Dovetail relies on the weight of itself and its unique joinery to stay together. Developed through a process focused on rapid prototyping and enabled by digital design tools such as Grasshopper and Rhino. Dovetail reinforces the potential of intersecting digital and analog processes and the art of making with 21st Century design tools.