The Summit Institute / Club
Location: Eden, Utah Size: 27,700 SF Status: Construction Documents Program: Multipurpose event space, health club & spa, pool, sauna, athletic rooms, banquet hall, bowling alley, juice & coffee bar Client: Summit
chevron_left
A Creative Nexus to Empower Social Innovation
The Summit Institute was designed as a creative nexus and social platform for convening leaders in conservation and the arts. As a place to explore and reimagine impact initiatives, the Institute builds upon its central location through diverse programs terraced together along the hillside.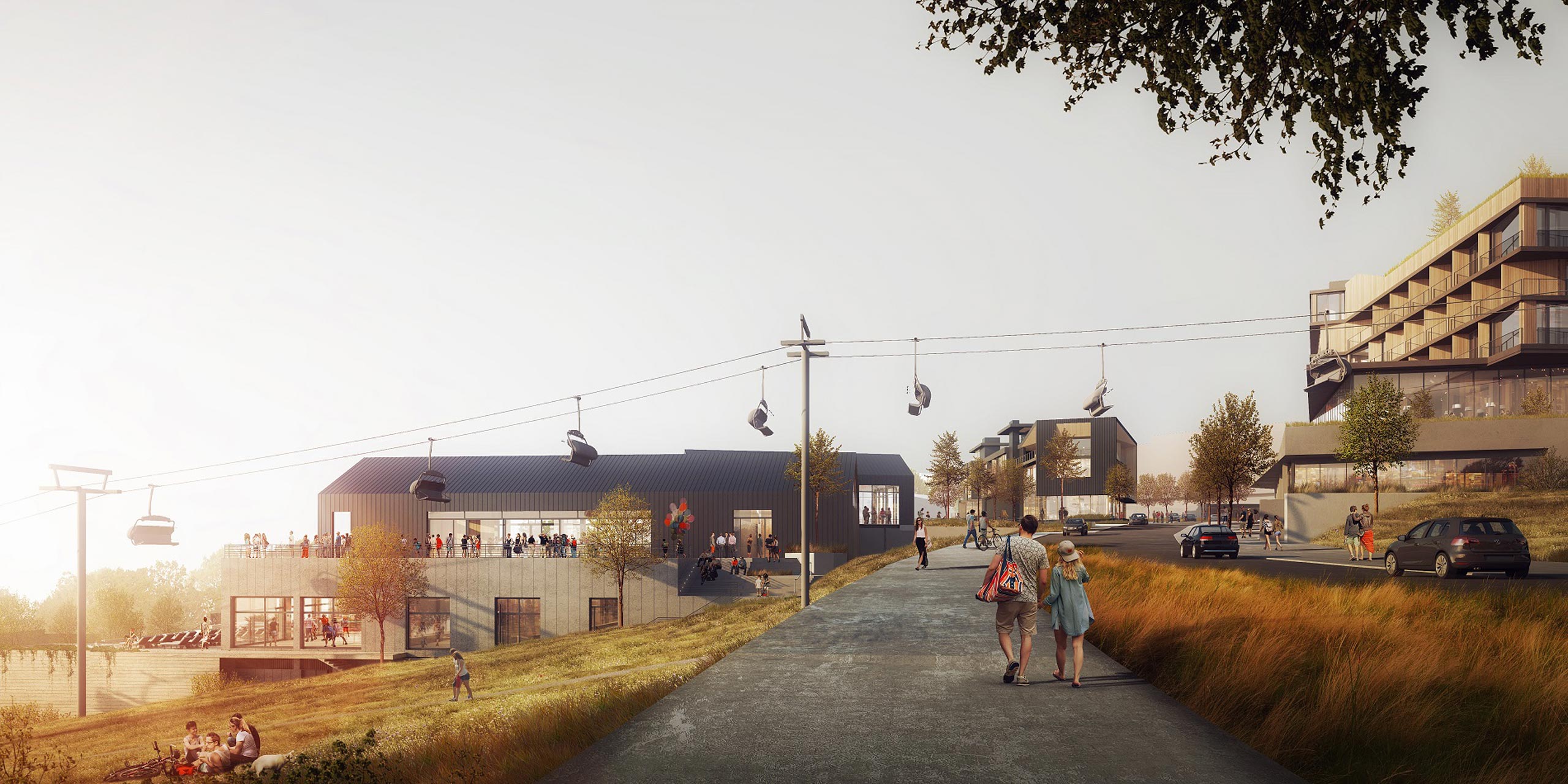 The Summit Institute
The Summit Institute was designed as a central gathering space within the Powder Mountain Village center. Located on a sloped site in Utah's Wasatch Mountain Range, the Summit Institute is the communal heart of the largest ski mountain development expansion in America. The Institute represents Summit's vision to build a public mountain town focused on innovation, entrepreneurship, arts, and altruism.
Created to foster connection, the project was organized around social terraces that extend between indoor and outdoor spaces. These shared gathering areas overlap with each other and the circulation, encouraging visitors to cross paths and learn from one another. Pools and spas, recreational rooms, and multi-purpose event spaces form large gatherings areas that blend together and open up to panoramic views. Reflecting Summit's mission, the Institute's program itself becomes the project's guiding concept.
Reinterpreting Traditional Agrarian Structures
Inspired by Summit's focus on sustainability, the new Institute building reinterprets traditional agrarian structures and materials to create a modern social space. Building on the idea of bringing people together around a table, the Summit Institute features a 300 seat hall with movable rooms and coworking spaces. Fostering a sense of community, the project becomes an amenity on the mountain for local residents and visitors alike.
Demonstrating a sensitivity to local scale, culture and context, the new Institute building is designed to integrate with the sloping landscape. The main gathering hall rests above the recreational spaces below, providing unobstructed views from the Summit Hotel while establishing its own character and identity. As a cohesive design, the Summit Institute embodies the collective and adventurous spirit Pow Mow is known for.