Location: West Hollywood, California Size: 63,562 SF Status: Submitted for Entitlements Program: Four-story, mixed-use building with 71 residential units and 9,400 SF of commercial space. Amenities include a pool deck, fitness area, and a collection of courtyards. Client: Weho Investors
chevron_left
Social Network
Taking cues from local building vernaculars, 7617 Santa Monica Boulevard was made to embrace the climate of Los Angeles and create a subtle material change along the historic boulevard. As a medium scale residential development, the project creates density while respecting the surrounding neighborhood. In turn, the project addresses the need for housing while reinterpreting the courtyard typology of Los Angeles.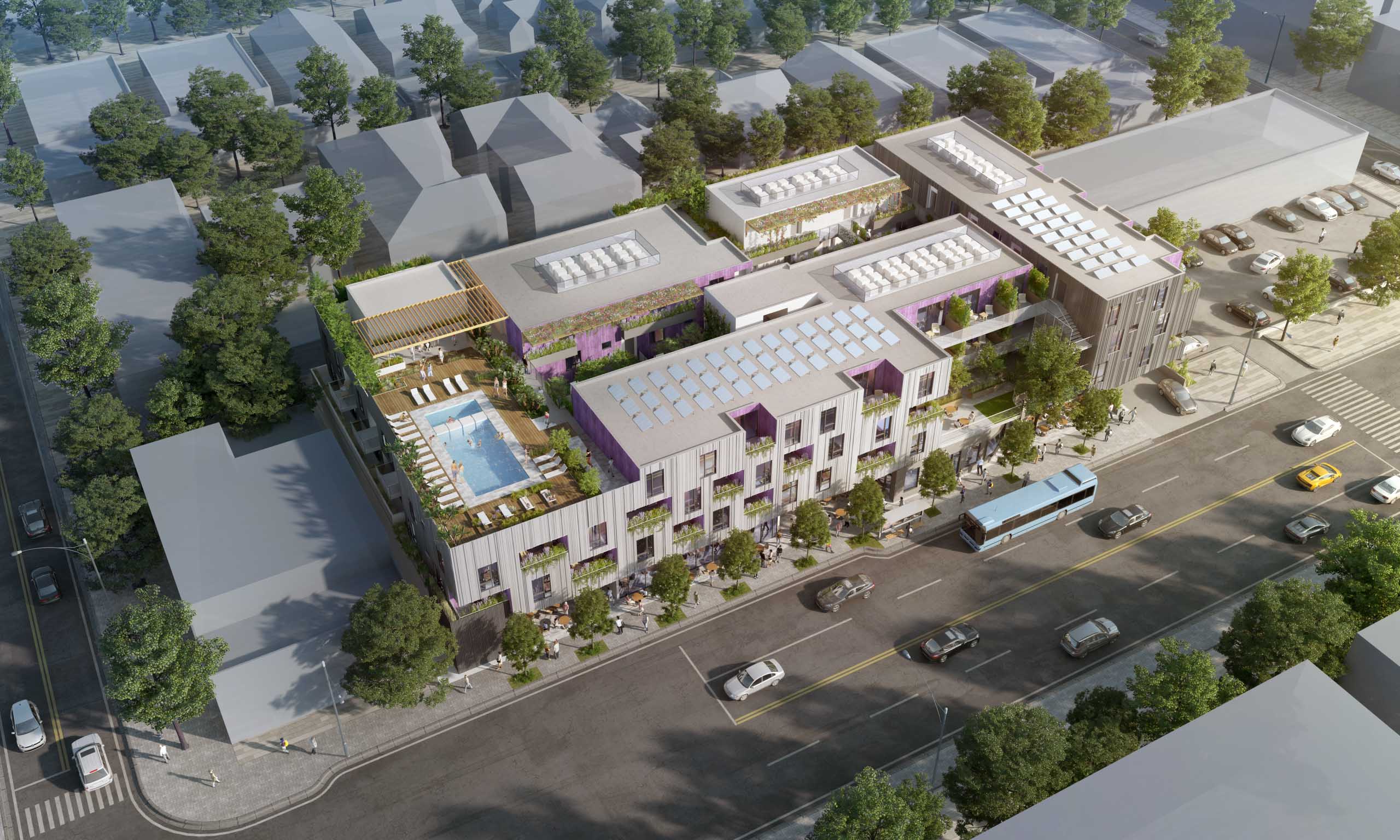 3 Part Composition
Highlighting a dynamic play between materials, the building massing is divided into three parts; the volumes running east/west are clad in a light corrugated metal, and the volumes running north/south are clad in a dark corrugated metal, creating an alternating set of volumes around the perimeter. The central volumes are clad in a third accent material that is also used in the "cuts" of the balconies. Introducing additional amenity space, the design's massing is reduced along the west and north edges to create additional outdoor spaces, including the pool deck and a landscape buffer facing the residential zones to the north. The pool deck is oriented south toward Santa Monica Boulevard to reduce noise to the adjacent properties, and the outdoor spaces along the north maintain privacy through landscaped areas facing the adjacent residential zones.
Balancing responsive development with subtle formal moves, the stacked units alternate balconies to create differentiation along the facade and further break down the massing. Designed with varying setbacks from Santa Monica Boulevard, the project's varied mass increases usable outdoor space on the ground floor while creating outdoor common areas and widening the sidewalk. The result is a new housing project that reinterprets the form and materials traditionally used to define West Hollywood.
Neighboring a LA County Fire Station with nearby access to a Russian Jewish Community Center and a West Hollywood Community Center, 7617 is situated along an important corridor through the city and a diverse neighborhood. Building off the courtyard model as a mean to open the building to views and create a social gathering space, the design begins with the courtyard typology as its starting point. By reducing massing toward the street and prioritizing access to light, the project emphasizes the relationship between residents.
In a typical courtyard building, the maximum building envelope and perimeter are maintained while the center is reduced by the courtyard. Here, exterior circulation and outdoor spaces become amenities for residents. In 7617, The perimeter volume is broken and shifted inward at two points along its edge. This reorganizes the large main courtyard into two smaller courtyards facing outward, which breaks down the overall massing and creates multiple common outdoor spaces. Protecting the interior courtyards from the noise generated along the boulevard, the massing