Hope Courtyard Residences
Location: Santa Barbara, California Size: 46 Apartment Units Status: Permitting Program: Multi-Family Residential Client: Faring
chevron_left
Colonial Remix
The Hope Avenue Residences is a four-story, mixed-use building designed to provide housing for downtown Santa Barbara. The concept takes its cues from the rich textures and materiality found in Santa Barbara, but reimagines their application while maintaining compatibility with the surrounding context. The traditional red-tile roof is reinterpreted through a terracotta rainscreen that inverts the relationship of stucco to tile and creates a rich, layered façade. The design features 46 apartment units with ground floor commercial space and a variety of common outdoor areas and amenities for residents.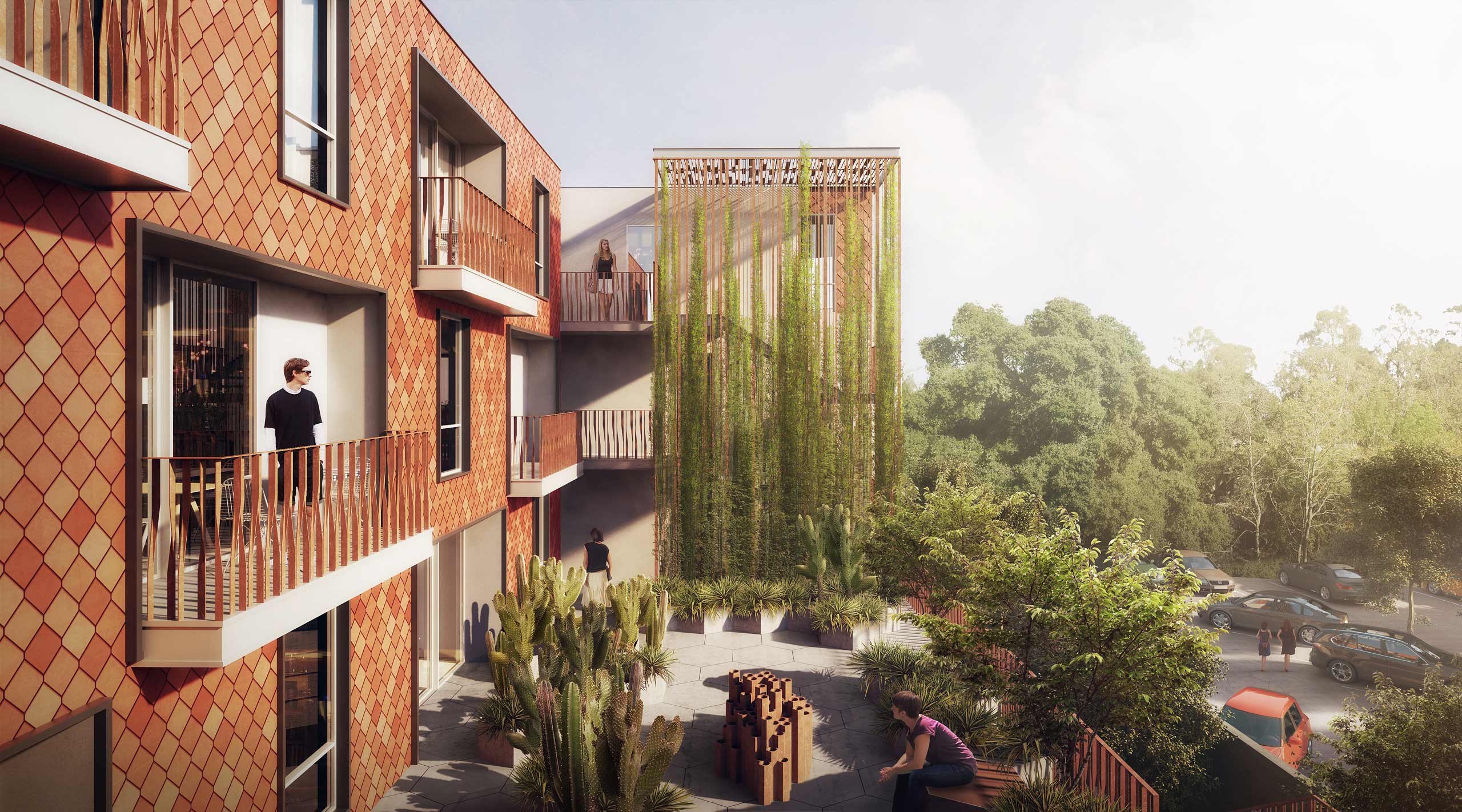 Rethinking the Paseo in Santa Barbara
Located on Hope Avenue, the Residences take inspiration from the city's iconic State Street. Running through the heart of downtown Santa Barbara, the street combines Hispanic architectural style and landscaping with pedestrian amenities, proximity to the Pacific Ocean, views of the Santa Ynez Mountains, and a range of cultural sites. State Street has served as the social, economic, and cultural center of the city and southern coast for over 150 years. Officially named in 1850 to honor California's recently declared statehood, State Street runs from the historic Stearns Wharf to the waterfront district and continues through the center of downtown.
Reinterpreting this historic avenue, the project rethinks the "Plaza Concept" used to create aesthetically pleasing streetscapes and pedestrian amenities. Inspired by networks of paseos and "found" spaces, the building inverts the courtyard typology by exposing multiple outdoor spaces to the exterior of the building and connecting them through a series of exterior walkways. As a result, the building volume takes on the character of an urban village.
Urban Living
Hope Residences was approved as part of the Average Unit-Size Density Incentive Program (AUD) to encourage additional residential density. Building upon the paseo and plaza idea with density, the site also employs a large bio-swale along the Arroyo Burro Creek on the eastern edge of the site that serves as a storm water management system and wildlife restoration area. Inspired by the city's use of small fountains and plazas sheltered from main thoroughfares, the swale provides a sustainable model for future development projects.
Since the 1960s, Santa Barbara has invested in projects that re-energize its communities and streets. The Hope Avenue Residences reinterpret the character of the city and build upon its commitment to appropriately scaled neighborhoods and homes. The design embraces Santa Barbara's values to create a contemporary residential project and amenities that are tied to the local context and its history.