Location: Los Angeles, California Size: 26,600 SF Status: Submitted for Entitlements, Estimated Completion 2022 Program: 24 residential units Client: MCAP Partners
chevron_left
Al Fresco Living in Hollywood
Orange Flats was designed as a dense, al fresco living model for Hollywood. Sited on the western edge of the neighborhood occupying two formerly single-family lots, Orange Flats is located just off Santa Monica Boulevard between La Brea Ave and Highland Ave. Playing off the structure and history of this iconic street, the project encourages connections to personal outdoor spaces that celebrate the climate and character of Southern California.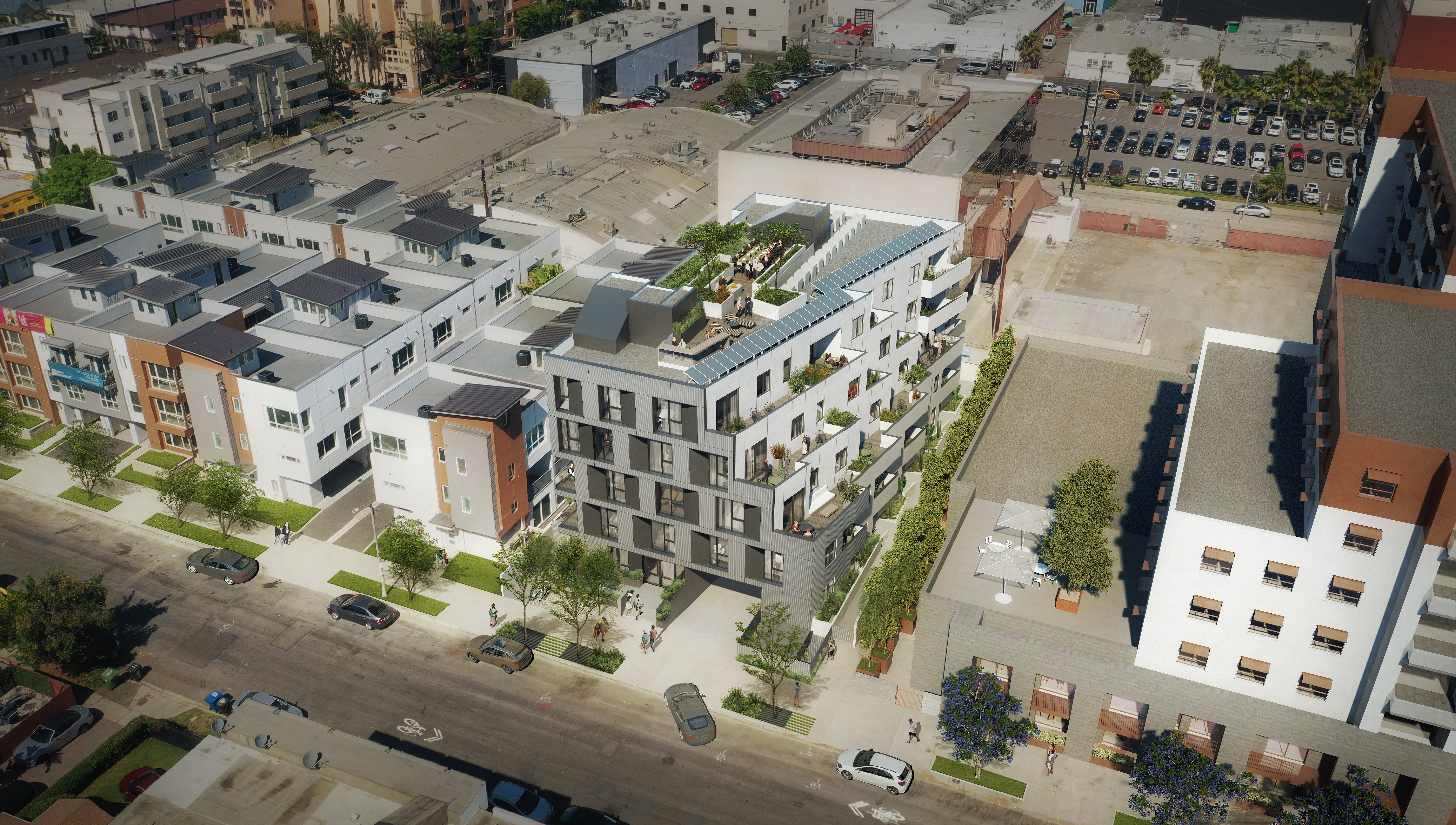 Santa Monica Boulevard connects West Hollywood, Beverly Hills, and Century City to West Los Angeles and Santa Monica. The cultural heart of the street emerges where the four-lane road becomes a walkable street in Hollywood, full of shops, restaurants, and eclectic cultural venues. Orange Flats builds upon this collective spirit to provide modern living that connects people to private patio spaces, temperate year-round weather, and the city itself.
Rising as a five-story, 24-unit residential building, Orange Flats features a terracing façade that steps back to the south, bringing in natural daylight while opening to views along large private decks at each level. The lower floors of the project have smaller units on either side of a double-loaded interior corridor, while the upper units in the building terrace back with larger two-bedroom units. These are accessed from an exterior walkway along the north façade. In turn, the building's terraced form steps up to a shared rooftop amenity space.
Overlooking views to the Hollywood Hills and the Pacific, the rooftop deck of Orange Flats features landscaping and a variety of activity zones that include a lounge, dining area, and fire pit. Throughout the building there are a number of additional amenity areas, including a shaded public sidewalk lounge, a cycling room, and a multifunctional screening room. Orange Flats was also made with a number of affordable VLI units that are provided as part of the project's affordability and mixed-tenant goals.
The project's narrow site runs east to west with a lobby and below grade parking entrance along the western edge of the property at Orange Drive. Taking advantage of the long site, the project includes tenant parking, electric vehicle charging, and bike storage all provided on one fully subterranean level. Through the design of its form, amenities and site layout, Orange Flats celebrates al fresco living as a cornerstone of the Los Angeles lifestyle experience.