Location: West Hollywood, California
chevron_left
Reinventing Cannabis Retail
Moving between tranquil and dramatic, ASHE Society was designed to reflect the bold character of West Hollywood. Embracing its historic neighborhood, the new retail concept brings to life the ASHE brand's guiding principles of Advocacy, Social Equity, Health, and Education. Celebrating local artists and community artisans, the design features an aesthetic that's sustainable, inclusive and refined.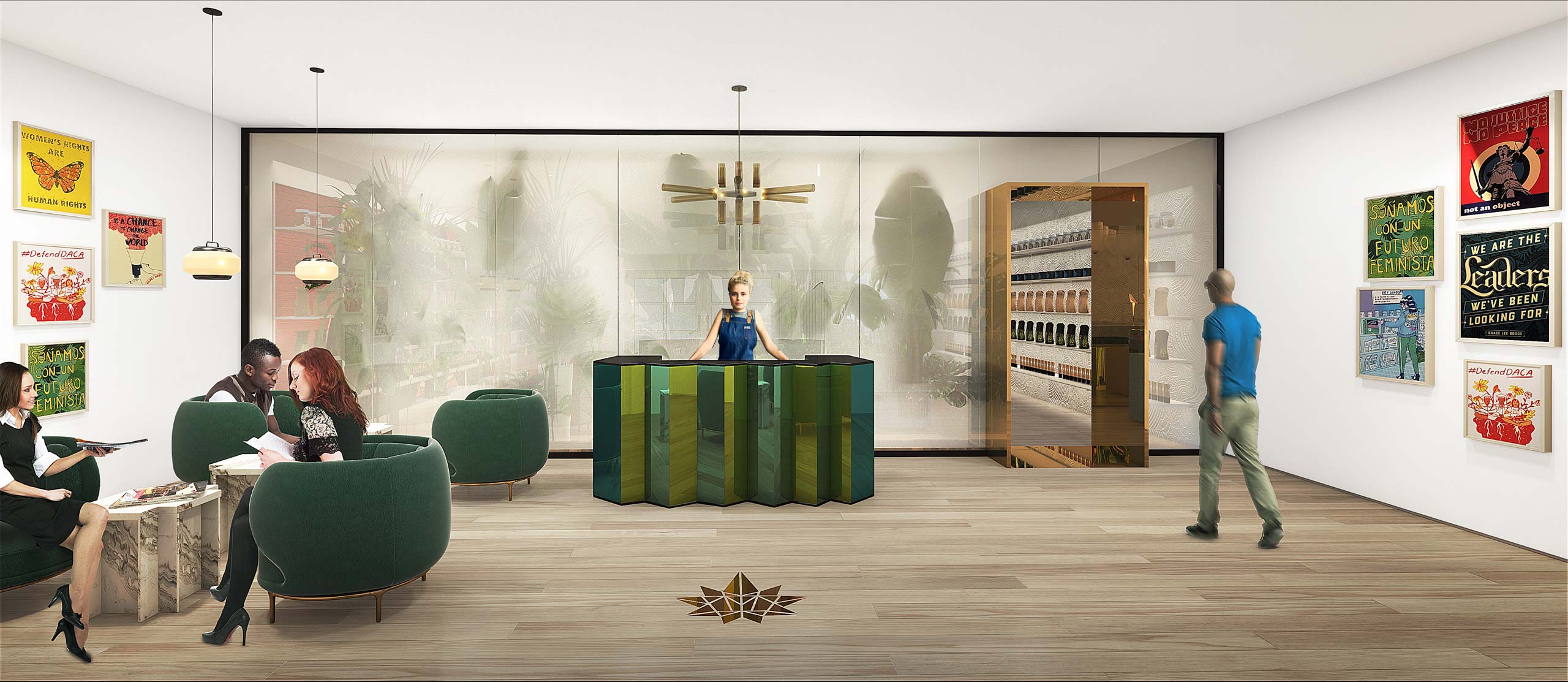 Tranquility sets the mood
West Hollywood has always been ahead of its time, from art and film to music, fashion and style. Its progressive ideals attracted endless creatives and all levels of society into a world of authentic experiences. From the early days of boundary pushing music to redefining style and diversity, West Hollywood has always been a place for the uncommon, the avant-garde and the new. ASHE Society's vision for West Hollywood nods to this historic past while maintaining a playful aesthetic beauty.
Boutique designs are elegant and memorable. Building upon the opportunity to lead change in a new retail market, the ASHE Society creates a boutique experience inspired by culture, craft and the unexpected. Sophisticated and enduring, the concept keeps with a tradition of style and luxury. Organized into three distinct spaces, the layout centers on a light-filled reception, tailored retail and product display, and a sophisticated lounge area. Together, they form a new space to learn, shop, and unwind.
Reinventing a retail genre, ASHE Society engages the streetscape and promotes a pedestrian culture where small retail can thrive. Discreet signage welcomes visitors inside alongside custom curated window displays. A handcrafted tile façade draws guests into a calm and serene reception, where the Maître D greets them into the light filled entry. Behind an iconic reception desk, a large plant wall is tastefully disguised by opaque glass.
Redefining Consumption Lounge
From there, guests are transported into another world of retail and lounge as they move from tranquil to dramatic. Museum display fixtures and vitrines combine with marble and ash wood to highlight the latest products. Local artisans are showcased through the storefront and lounge mural, as well as original artwork.
Aligning with ASHE's core values, the retail experience is guided by the female founders' philosophy, giving way to a design that's green, sustainable, healthy and luxurious. ASHE Society becomes a space that reaches out to the community and looks to the future. Grounded in an innovative business model, the ASHE Society creates a new home for educating the masses and opening minds to new possibilities.