Location: West Hollywood, California Size: 0.85 Acres, 115,000 SF, 53 Residential Units Status: Completed 2021 Program: Multi-Family Residential Client: Palisades
chevron_left
Redefining the Los Angeles Courtyard
Inspired by the Los Angeles tradition of courtyard housing in the early 20th century, the Fairfax Courtyard Residences rethink communal space in urban life. Organized to redefine traditional forms of living, the project is sited on five residential lots to make use of generous depth and create an entirely single-loaded unit configuration. As a new urban courtyard for LA, the design emphasizes shared interactive space grounded in the context of Fairfax.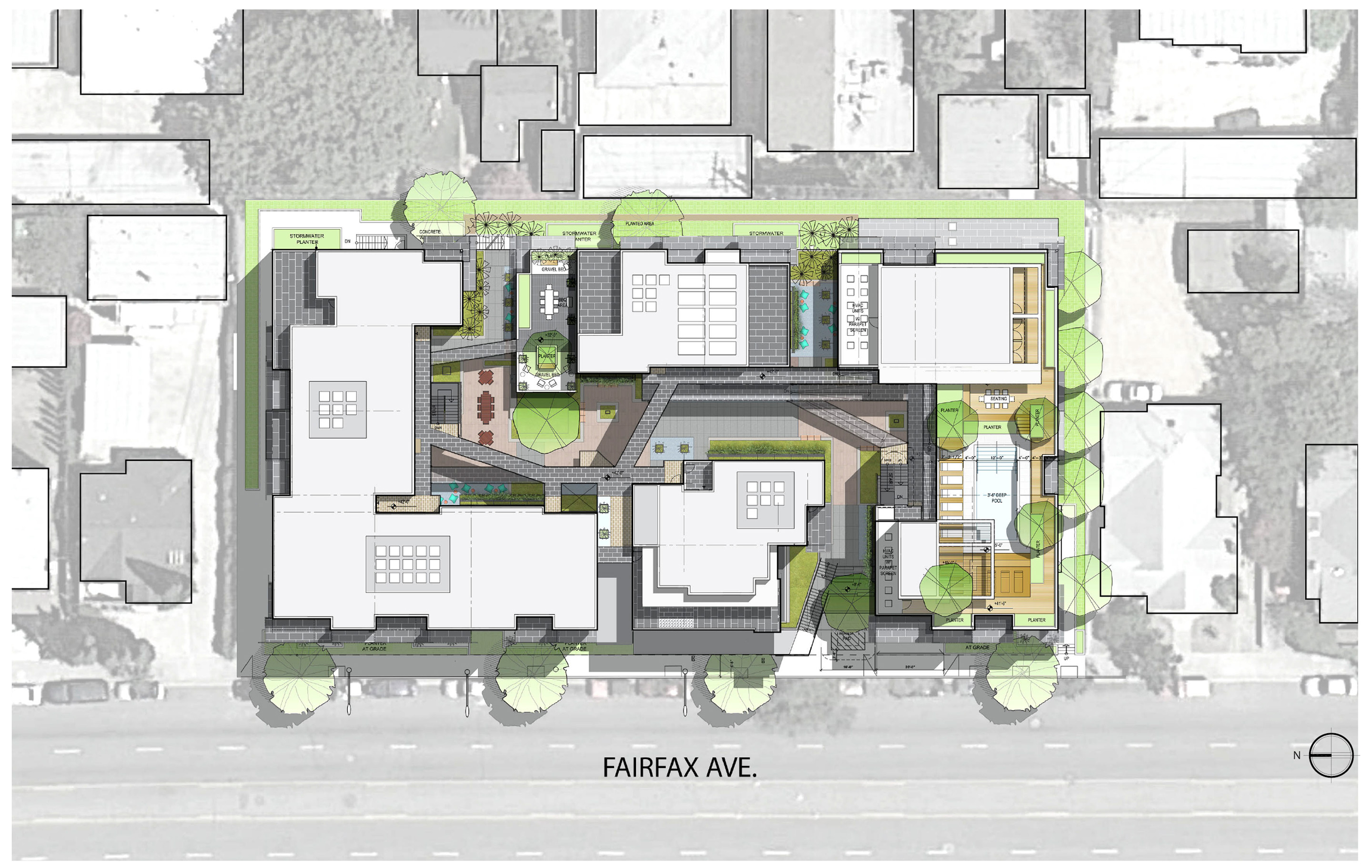 Site Plan
The Fairfax Courtyard Residences create new possibilities for community and urban life. A series of interwoven forms and bridges blur the thresholds between interior and exterior. Facilitating connection and dialogue, the design fosters personal connections to the city through residential units, terraces, decks, and shared amenity space. Located in the historic Fairfax neighborhood of Los Angeles, the Courtyard Residences are distinct in scale and material palette from neighboring structures.
The residences create strong relationships to the street through varied and patterned balconies along the main façade. The resulting veil-like effect creates a layered wood screen façade featuring an art wall by Cliff Garten. The shifted balconies give the project a characteristic pattern and bring a human scale to the larger structure. Units open to a daylit courtyard envisioned as a series of distributed spaces. The courtyard provides numerous opportunities for diverse activities, from space for quiet enjoyment in private gardens and lounging on the pool deck to community terraces for cooking together. On the interior, each of the plaza levels features bridges that change position from floor to floor.