Hospitality Design Feature – On the Boards
Featured on: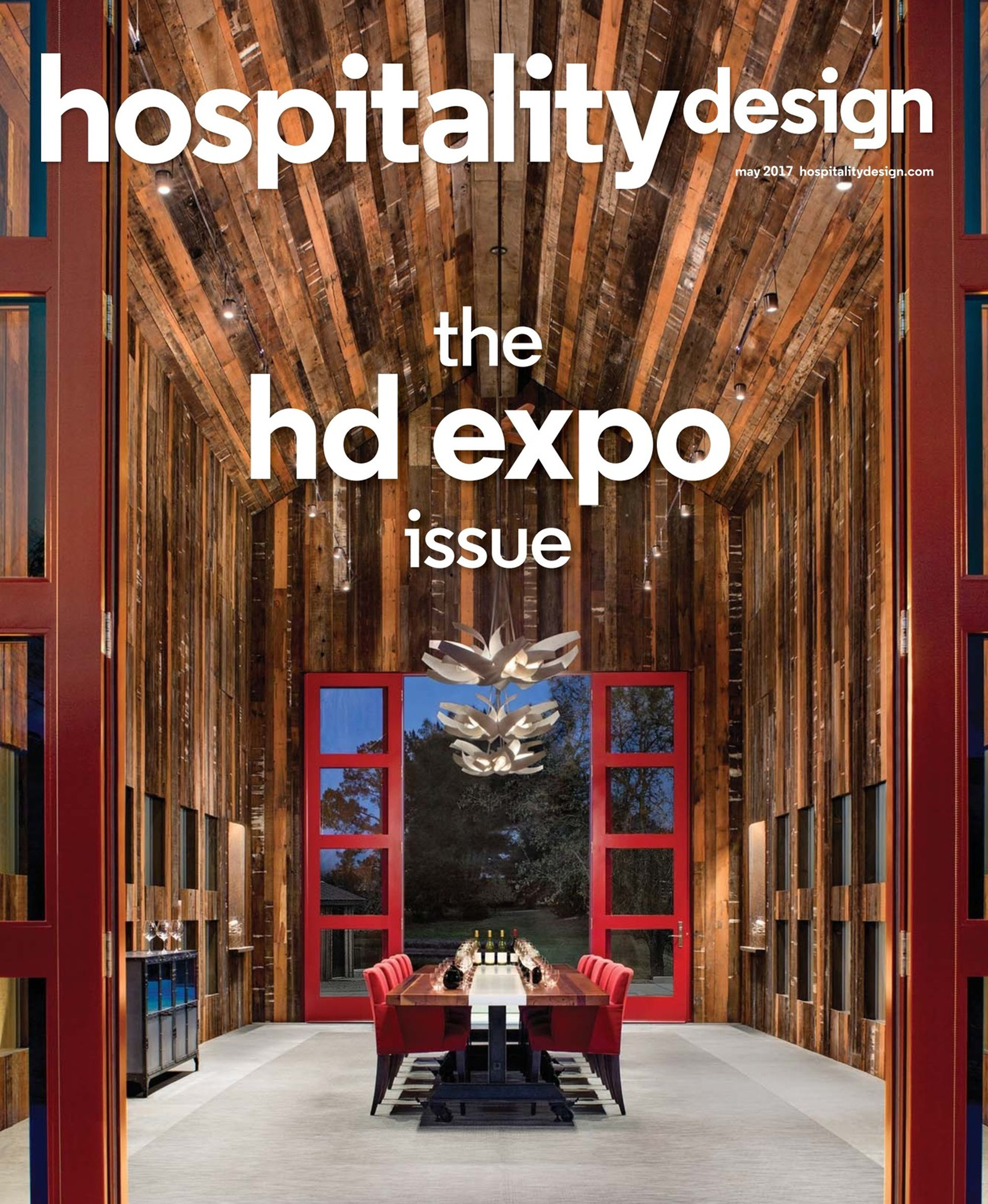 Being a self-starter is certainly part of Christian Robert's DNA. In 2011, he left his role as a senior designer at Gensler to start his own firm. After partnering with fellow Gensler alum Benjamin Anderson, OFFICEUNTITLED (formerly R&A Architecture + Design) was born. The young firm based in Portland, Oregon and Los Angeles already has a global clientele, taking on projects in New York, London, and Shanghai, to name a few. He jokes that when people ask what his firm specializes in, he says, "Anything we can get our hands on."
Before starting R&A, Robert studied architecture at the University of Stuttgart, Germany, and would go on to be a core design leader of the mixed-use Ritz-Carlton and J.W. Marriott Hotel and Residences at LA Live, working alongside his future business partners. "You leave your safe haven in the corporate world and now, five years later, we're 30 people making unique work," says Robert. He attributes R&A's success to "pairing a corporate upbringing with a boutique design approach," as well as a special and distinct relationship with their clients. "We'll always try to push them into a direction they're almost uncomfortable with—our culture is curiosity, finding new solutions, trying to transform new typologies," says Robert, adding "You can't do good work without good clients." Sometimes, he says, meeting the right partner is happenstance: "We're big on connections, and the three degrees of separation lead us to the most interesting partnerships."
Here, Robert walks through three of R&A's community-driven projects, all of which think outside the box:
The Cabins at Coos Bay Lagoon
Built on a 103-acre site formerly occupied by a sawmill (according to Robert, there was a smoke stack still standing when they started that has since been demolished), this collection of 100 prefabricated cabins is designed as a scenic RV stop along the Oregon coast, nestled between the ocean and Coos Bay. Set to open next spring, "It's an incredibly beautiful site; as an architect you almost don't want to build anything on it," says Robert. The main pavilion and the smaller structures branching off it replicate seaside huts and marsh island typology. "You don't want to see anyone else, only the nature, so it's kind of a fine balance," he adds.
The Hotel Highrise, which is currently still in entitlements, has yet to be approved. "We always embrace working in contentious neighborhoods and working with the neighbors instead of against them," explains Robert. All the bathrooms stack on top of each other in the center cylinder. From there, suites have balconies that stick out for what Robert calls "playful geometry." These balconies shade the rest of the structure. "We play with the exterior of the building and make it more sculptural, but within a budget as well," says Robert. "We want to make sure we deliver what we promised."
Summit Powder Mountain
Robert has also been integral in R&A's development of the Village at Summit Powder Mountain, a planned community and home base of Summit, a company that plans unique events. The design of the 115-key lifestyle hotel reflects its Utah mountain surroundings rather than intruding on them, embracing the full outdoor experience. At the same site, R&A is also overseeing the design of the Summit Institute, a multipurpose building that will include next-gen conferencing capabilities, a banquet hall, meeting space, an indoor gym, and a slope side pool, all with the Summit community in mind.
See More of What's going on...