Location: West Hollywood, California Status: Entitlements Program: Hotel, Residential Client: Charles Company
chevron_left
Los Angeles on View: A Tower of Sunsets
Building on the culture and history of Sunset Boulevard, the new Sunset Tower was formed around views of West Hollywood and the iconic destinations of Los Angeles. These view corridors give the tower definition, and in turn, define the sculptural nature of the tower and its curving floor plates. The design embraces one of L.A.'s most iconic streets to capture the essence of city itself.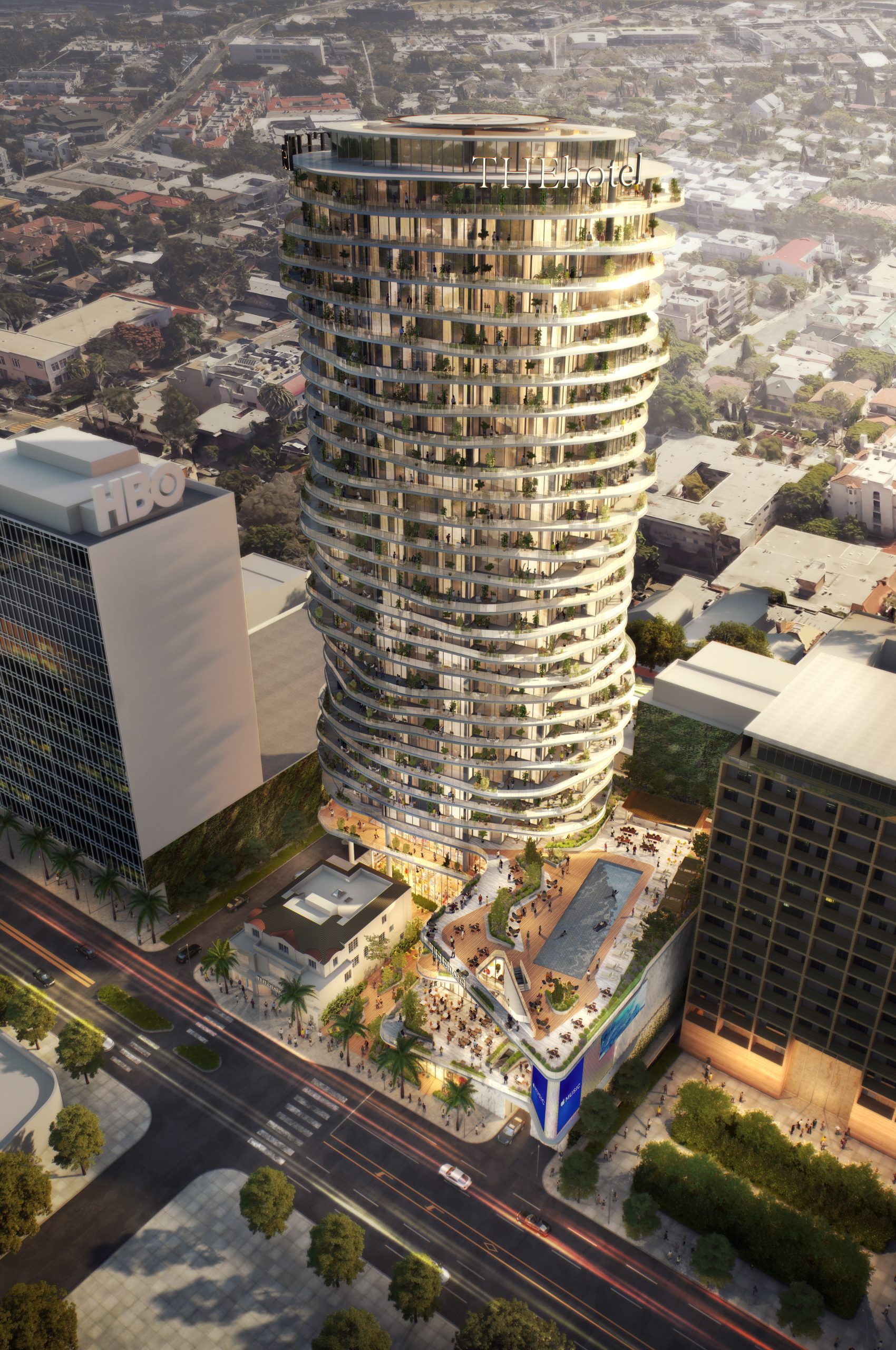 Bing Crosby's Original Hang
The Sunset Tower design was inspired by the character of Sunset Boulevard and a history of rock and roll and creative expression. With an undulating façade that opens to the city, the tower reflects the dynamic nature of West Hollywood. Programmed around the city's metropolitan activity, the mixed-use project builds upon the spirit of surrounding staples like the Roxy Theatre and the Shamrock Social Club.
Located on a T-shaped lot along Sunset Boulevard, the 22 story tower features curved and rotating floor plates that allow each floor to extend beyond the building envelope. The individual floor plates are oriented to iconic views throughout West Hollywood and Los Angeles. These view corridors of meandering adjacent hillside streets above Sunset combine to create a shifting, sculptural building form grounded in the surrounding context. Along the envelope, outdoor balconies embrace the Southern California climate, while a series of planters and deep overhangs provide privacy and protection from solar heat gain.
Room with a View
Resting atop a podium complex, the spiraling Sunset Tower includes hotel rooms, multiple event spaces, and affordable apartment units. While the tower is set back from Doheny and Sunset Boulevard, the project's retail and restaurant uses meet the street along the three-story podium structure. The roof of the podium offers outdoor amenity spaces, including a pool and lounge areas. Below, underground parking levels house over 500 parking spaces.
As a vertical expression of Sunset Boulevard and its evolving character, Sunset Tower allows multiple readings from different points along the boulevard and throughout the city. Public spaces encourage exchange and interaction, while each floor offers spectacular views. From Sunset, the tower becomes both a destination and a new landmark within the city of West Hollywood.